Homey v2.0 is a free software update available to all Homey owners. We have made tremendous efforts to make Homey better, and to do that, some features that you might have used to have changed.
In this article we list those features. We encourage everyone to update to have the best Homey experience, but it's not obligatory.
Learn how to update to Homey v2.0 »
A new mobile app
We have created a gorgeous mobile app that's available for Android and iOS. The entirety of Homey can now be experienced on your smartphone. You can view and control your devices, add them, create and manage your Flows, set alarms, edit variables and manage all settings in the Homey app.
As a result, the Homey Desktop App can no longer be used after installing Homey v2.0.
Insights
Homey Insights, where you can view charts of your home's appliances, has been completely revamped. In older Homey versions your Insights would need a lot of disk space over time and old entries had to be removed.
In Homey v2.0, Insights are kept for over 2 years. This has been made possible by averaging your values over time. For example, the energy usage of a month in the previous year is available as average per day. The live energy usage happening right now, however, is available per 5 seconds.
When updating to Homey v2.0, your old logs will be erased and Homey will start logging in the new format. So if you want to keep your logs until now, use the Download functionality before updating.
Playlists and music sources are no longer supported
What was previously called Homey Music has been removed from Homey v2.0. Instead, speakers such as Sonos, Bang & Olufsen and Spotify Connect can now be controlled the same as any other device.
Tracks, playlists and radio stations can be started with a Flow, depending on the speaker's brand.
Android power and call events
Due to new limitations enforced by Google, on Android phones the power connected/disconnected and incoming/outgoing call events are removed from Homey.
Logic
Variables can now be created, updated and deleted from the mobile app. These can be used in all your advanced Flows.
Advanced Logic cards for webhooks and web request have been added.
Weather
A beautiful weather screensaver has been added that tells you the current weather. The weather is also logged to Insights and available as Tags in a Flow.
Experiments
Features we create but that we're unsure about whether to release and support are available as Experiment.
Experiments that are available in Homey v2.0 are Apple HomeKit, Virtual Devices and Built-in Microphone.
Note: We cannot give support on experiments so use them at your own risk.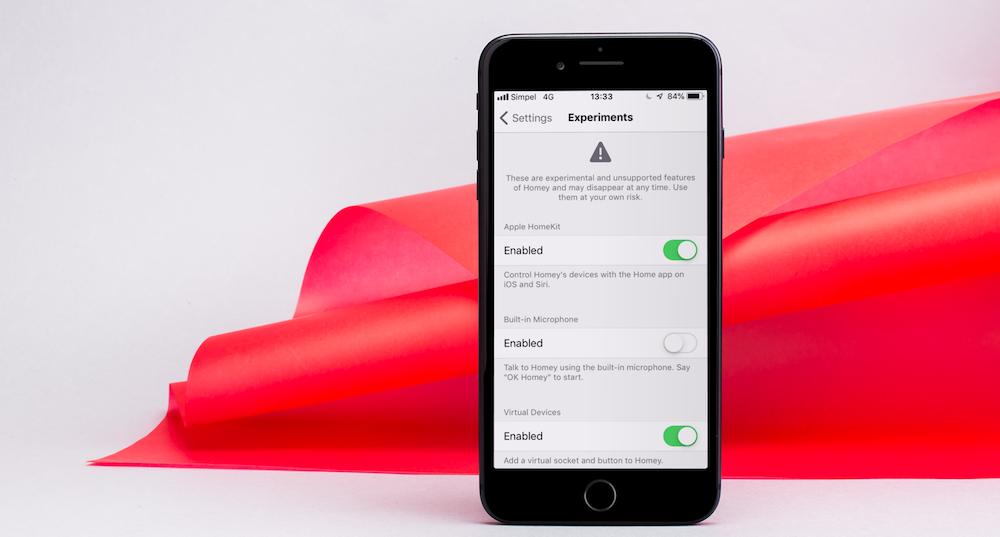 Improved security
Homey v2.0 uses state of the art security that makes your Homey experience an even safer one. Read more about Homey's security »
Many small improvements
Homey v2.0 is a major update with not only new features but also many small improvements under the hood. It's faster, better and many smaller features have been added we hope you enjoy using!